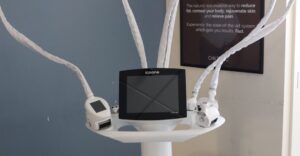 Icoone Technology at Chiltonic Perform Effective Face and Body Treatment.
Icoone  is the only technology to perform deep stimulation of the connective tissue, known as Multi Micro Alveolar Stimulation (MMAS), treating skin blemishes and flaws with visible results after the first treatment.
With its vast combination of programs, icoone performs targeted and effective face and body treatments meeting the needs of women and men of all ages. In particular:
Body: Revitalize lymphatic drainage* and microcirculation; conditions skin tissue to reduce the appearance of cellulite and localized fat deposits; boosts elastin and collagen production to rapidly smooth and firm the skin, favor deep relaxation and regeneration, and support for fitness activities.

Face: Oxygenate and revitalize the skin; revitalizes drainage; promotes skin regeneration; boosts elastin and collagen production.
Guaranteed results!
25% increase in the active stimulation surface
21,600 microstimulations per minute